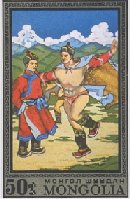 Mongolia Resources... Articles, Maps, Videos and Reading List
Mongolian Language Listening Practice: A website that lets you listen to spoken Mongolian and practice comprehension.
Dateline Mongolia by Michael Kohn
Wrestling, Horseracing and Archery epitomize the culture and context of Mongolia. They simple sports; no complicated scoring or special facilities or technology needed. The strongest fastest man, the strongest, fastest horse and the strongest, steadiest archer win the medals.
The National Naadam, like the Fourth of July or Bastille Day is held every year on the same day throughout the country, July 10-12.