Our camps are designed for adventurous anglers who appreciate a comfortable bed, hot showers, great food, and professional guides.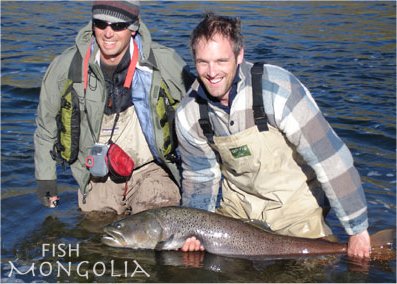 Getting there
The camps are located three to five hours drive from the provincial airport, which itself is only an hour and a half flight from the capital Ulaanbaatar.

The fishery
The fishing is a combination of wading and drift-boat fishing from inflatable rafts. There are a number of good taimen pools close to each of the camps, and we will drive further a field each day in the camp's 6WD truck, or take the drift boats. The drift boats are customized inflatable rafts are equipped with rowing frame and casting seats for two anglers. The fishing programme is varied through the season allowing us to fish different beats and avoid over-fishing the same pools. You will be accompanied during the day by one of the camp's Mongolian or Western guides, who will show you the good pools, row the raft, select good flies and lures, and help you to land and photograph your catch. More information

Food & accomodation
Our Taimen fishing camps consist of traditional Mongolian gers (yurts), enabling us to provide a uniquely Mongolian experience in a genuinely eco-friendly camp. Gers are cozy felt-wrapped tents around 5m in diameter, and are heated with a wood-stove. The comfortable guest bedrooms are gers sleeping two or three guests. One ger is equipped as a shower house and a large ger serves as the dining room. The camp is supplied with fresh meat, fruit, salad, and vegetables every week. Meals include a range of tasty European and Mongolian dishes, and cold beer and wine is served at dinner, included in the price.
10-day package/6 days fishing $3490 per person (8 anglers maximum in camp)
Price does not include international airfare to/from Ulaan Baatar