Boojum Store
To Order Call Toll Free 800-287-0125 or write info@boojum.com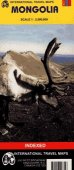 Best Mongolia Map, Latest Edition $9.00 (includes US postage)
A must have for trip planning, it's the one our staff uses. This map shows every permanent track within the country, BUT the road conditions are unpredictable. Cute reindeer on the cover.
Khovsgol National Park $9.00 (includes US postage)
Not a map so much as a guide. Routes and details overlaid on a superb satellite image of Khovsgol. Plenty of background information and natural history details.
.


Altai National Park $9.00 (includes US postage)
Routes and details overlaid on a superb satellite image of the
Altai Mountains and western Mongolia.. Plenty of background information and natural history details.
"Riders of the Mongolian Steppe" Video Rental $15.00
"On the steppes of Mongolia, even today, there are more horses than human beings. And both are nomads, together roaming the vast countryside. This film describes their everyday life and looks at the traditional role of the horse in Mongolian society."
We have several copies of this EXCELLENT video in VHS or DVD. ALL horse lovers will find this hour-long video fascinating. It is the best introduction we know of to Mongolia. 1 week rental $15.00 USD includes US/Canada postage. Security deposit required.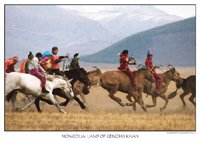 Naadam Racers by Gordon Wiltsie 17"x24" Poster Signed by the Photographer $20.00
In Fall/Winter of 2002, our friend and neighbor, Gordon Wiltsie went on assignment for National Geographic Magazine to document the annual migration of Mongolian nomads from the Darhad Valley to the shores of Lake Khovsgol. After two challenging months of living and riding with nomads, "Mongolian Crossing" (October 2003 National Geographic Magazine) was the result. Boojum Expeditions is proud to have been selected by Gordon and National Geographic to provide the planning and logistical support needed to fulfull the assignment. FINE ART PRINT ALSO AVAILABLE! in limited edition of 200. 11x14 matted $185.00 plus shipping, 16x20 matted $235.00, 20x24 matted $310.00. Call for details.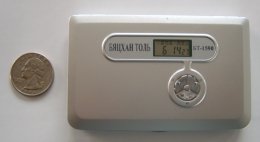 Electronic Translator Mongolian-English-Mongolian $120.00
This "little brain" as it's name implies is a must for anyone interested in Mongolian language! Simply type in the English or Mongolian word and get an instant translation. It's functions include Calendar, Calculator, Address Book, Memo, Games and Money/Measurement Converter.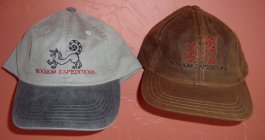 Boojum Baseball Hats $20.00 (One Choice of Welcome Gift for Clients)
Formerly reserved for those who have traveled with Boojum Expeditions. Now available to the general public by popular demand! Chose either two/tone breathable cotton (left above) or heavier waxed duck (great for rain, right above) each features the Boojum logo. Logos are stitched in a variety of colors, call if you have a special preference and see what's in stock.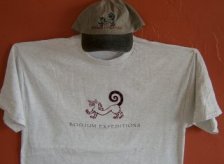 Boojum T-Shirts $20.00 (One Choice of Welcome Gift for Clients)
100% Cotton heavy duty Jerzee T-shirts, sizes Large and X-Large only. Basic gray T-shirts compliments any wardrobe.
Special offer: Send us a verifiable police mug shot of yourself in your Boojum shirt and win a new shirt a year for life. Two shirts a year if the mugshot is from the police station in Lhasa.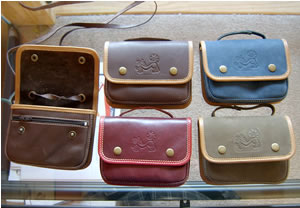 The Mongol Passport Pouch: $25.00
These bags are good for a night out at the opera on Sukhbaatar Square or to tuck under your raingear enroute to the taiga. Made in Ulan Bator to our specifications, they fit a cell phone, a passport and tickets or a couple days supply of dried cheese. The leather and workmanship is excellent. Adorned with the embossed Boojum Expeditions logo (eat your heart out, Louis Vuitton). Indicate monochrome or two-tone (every one unique). Click picture for detailed image.

We specialize in Mongolia travel but we also offer adventure travel to Patagonia, Uruguay, Tibet. Horseback riding was our original interest when we pioneered travel adventures to China and Inner Mongolia and Tibet. We now offer tours and travel packages of all kinds in Mongolia (formerly Outer Mongolia) including camel riding, trekking, photography, fishing, horseback riding, culture, visiting Naadam, the Gobi, Lake Hovsgol (Lake Khovsgol) and the nomadic herders of Mongolia. In Ulan Bator we have our own offices though we are not really a travel agent, but an outfitter of travel and adventure in Mongolia. If want a riding vacation; whether a horseback riding vacation, a camel riding vacation or a jeep riding vacation, we'll be glad to create a travel adventure across Mongolia for you.
In Patagonia and Uruguay remember you can combine two adventures and do both horseback riding trips in just two weeks of travel. A Patagonia horseback riding vacation or a Uruguay horseback riding vacation is just the thing for beginners or experienced equestrian travelers. An equestrain vacation, horseback riding in Patagonia, Agentina or Uruguay or Mongolia or Tibet is a great way to have a guided adventure.
Mongolia travel can also include rafting, trekking or a combination of rafting, trekking, horseback riding and culture. Mongolia travel means visiting the Gobi, Lake Khovsgol, Buddhist monasteries, or even fishing. The fishing in Mongolia and Patagonia is very good. In Mongolia the fishing is for taimen. In Patagonia, the fishing is for trout. Being an outfitter, we don't call our adventure horseback riding or other mongolia tours "tours" per se. We think that Monglia tour sounds like it lacks adventure. A Mongolia tour can include paleontology, horseback riding, a river trip or rafting, trekking or culture. Whatever you call it, a Mongolia tour or Mongolia travel, we will be sure to make your Mongolia tour feel like a private tour.
Those of you who have endured reading the awful prose just preceding are probably wondering what kind of idiot wrote it. We must confess to both a capacity for better prose and an ulterior motive in writing so badly. Search engines look for correlations between your keywords like Mongolia travel, horseback riding, mongolia tour, Patagonia, Uruguay, Tibet, Gobi.. (see there I go again) and the frequency with which they appear on your page. In this everchanging cyber world, we need to keep up, I guess. Have a good riding vacation or adventure and come for Mongolia travel.