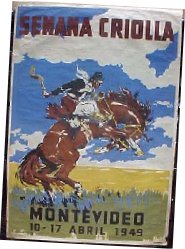 Trails of the Gaucho...
Argentina and Uruguay on Horseback
On a custom trip basis we offer three departures to South America where the gaucho culture lives on. Our Uruguay ride is pure beach and pura vida, staying in comfortable inns and cantering along the shore. Our Argentina ride starts at a working estancia and heads into the Andes for condors and camping, angling and asado.
Patagonia Gaucho Ride 8 days November-February

Contact us for custom dates and prices.

Gateway Bariloche

A unique opportunity to ride on a working estancia, guided by working gauchos, with a family whose history stretches back to the very earliest days of ranching. Limited to 9 riders, our route traverses all private land and National Park with fantastic landscapes and views. We ride sure-footed Crillo horses, not dude horses, but the same stock that the gauchos use daily. We establish a couple of basecamps and do extended day rides to explore the mountains and lakes of the region. Great fishing, asados and condor watching. An intimate look at the way of life, both old and new, in Patagonia.
Uruguay Beach Ride 8 days October-March

Contact us for custom dates and prices.

Gateway Montevideo

Canters on the beach, restaurant meals and comfortable, cozy inns at the end of the day. Uruguay is one of those undiscovered spots which offers an exceptional mix of riding, culture and comfort. Ride untouched Atlantic beaches, visit nature reserves and learn the life of rural Uruguay. Our accommodations include castle-like hotels and homestays on local estancias. Impecable! Click here for pictures and itinerary..